After a stressful day, few things relax me more than taking a nice, hot soak in my bathtub. As someone who frequently travels and moves around, I used to really miss having that calming ritual when I was away from home. That's why investing in a high-quality portable tub was one of the best decisions I've made!
In this blog, I'll talk about my experience picking out and using my portable spa tub. I'll go over the key factors that are most important to me – portability, durability and relaxation – and why I ultimately chose the tub I have.
I'll also share plenty of tips for selecting the perfect portable tub to fit your needs. Read on to learn why a portable soak is now an essential part of my self-care routine, no matter where I roam!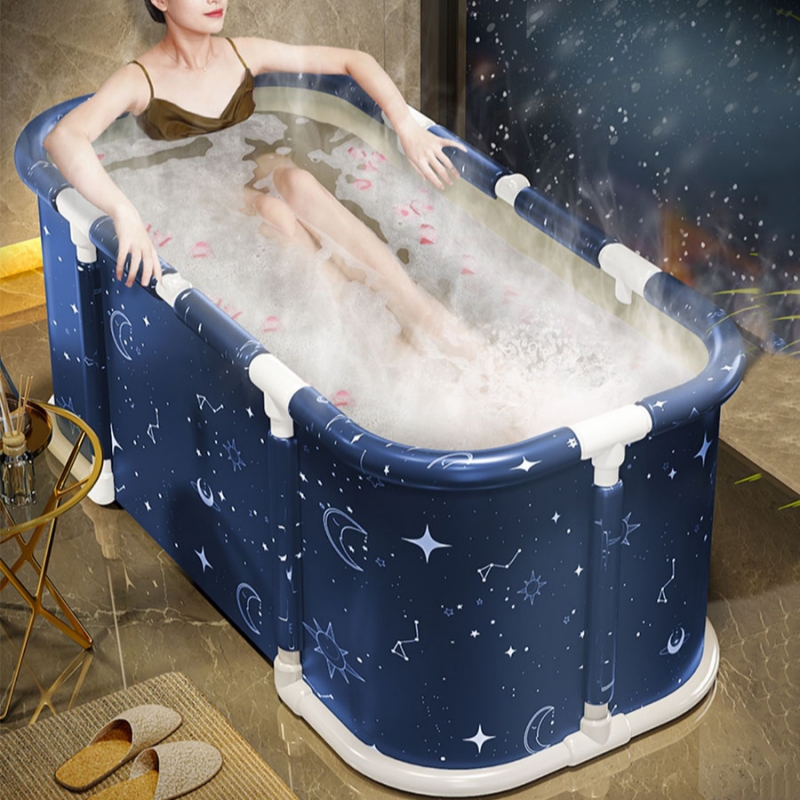 Choosing the Right Tub for Me
When I started researching portable tubs, I was overwhelmed by the options. From basic inflatable models to deluxe acrylic tubs, there are so many varieties available today.
I thought about my personal needs and came up with a "must-have" list to narrow down the choices:
Easy to transport – I wanted a tub light enough for one person to move and set up alone.
Quick inflation – Super fast and simple setup is key when I arrive at a new destination.
Durability – It needed to stand up to frequent use without leaks or punctures.
Spa features – Jets for massage would provide therapeutic benefits.
Ample space – A room to stretch out and relax is a top priority.
Water capacity – Being able to fill it with a standard tub's worth of water for a deep soak.
Retains heat – Nothing worse than lukewarm water! Good insulation helps.
With my requirements in mind, I ultimately selected the SaluSpa Hawaii AirJet Inflatable Hot Tub. Here's an overview of what I love about it:
Portability
Weighing just under 100 pounds, I can move this tub by myself with ease. The rectangular shape fits perfectly into my car.
Once deflated, it packs down into a compact storage bag that I can check as airline luggage. Setup only takes about 5 minutes after arriving. Portability gives me the flexibility to use it anywhere.
Durability
Built from 3-ply laminated PVC, it's sturdy enough for frequent use. The inflatable bladders are also reinforced to prevent punctures and leaks. After over a year of regular soaks, it's still going strong with no issues!
Relaxation
This tub features 140 massaging air jets that target pressure points all over your body. The soothing massage melts away aches and pains after travel or exercise.
With room for 4-6 people, I have plenty of space to stretch out and destress. It holds approximately 210 gallons of water, providing a depth perfect for relaxing immersion.
By keeping my personal criteria in mind, I found the ideal tub for my needs. The portability, durability and extras like massage jets make every soak an oasis of relaxation!
Tips for Picking the Perfect Portable Tub
If you're in the market for a portable hot tub, keep these tips in mind while evaluating your options:
Decide on the primary use – Will it be primarily for home use or travel? This will impact the size and features you require. If it's for a rental property, durability takes top priority.
Consider the available space – Measure where you plan to use it and compare it to tub dimensions. Allow for inflation and clearance around the sides as well.
Compare capacity – The interior bathing area and water capacity can vary greatly between models and brands. More volume allows you to submerge your whole body.
Assess materials – Vinyl and PVC are lightweight and affordable but less sturdy. Acrylic is pricier but offers insulation and durability.
Review special features – Must-have options like headrests, handles, integrated seats, jets and controls position differ. Select based on preferences.
Examine inflation method – Built-in or external pumps are convenient. Quick-heating models let you enjoy a soak faster.
Check accessories – Many packages include extras like covers, filters, steps and insulated ground mats that extend the life of your tub.
Read reviews and ratings – Don't just rely on manufacturer claims. See what actual owners have experienced with any model you're considering.
Compare warranties – Look for at least a 1-year warranty. Multiple years protect against early failures or defects.
Set your budget – Prices range wildly from just $100 to the thousands. Weigh the value of extras against costs.
By evaluating all these factors against your own needs and lifestyle, you can zero in on the ideal portable spa. Your relaxation awaits!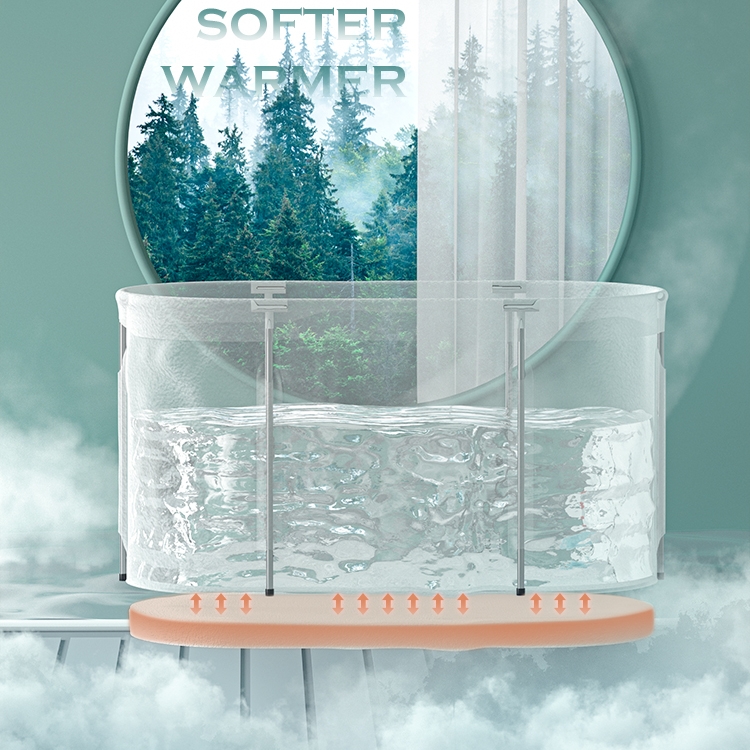 Prepping the Perfect Portable Tub Spot
One great thing about portable tubs is that you can use them just about anywhere. But some spots will enhance the experience more than others. Here are my tips for prepping the perfect portable hot tub location:
Outdoors
Level surface – Pick a flat, stable area without tripping hazards.
Access – Leave room around the tub for entry and exit.
Privacy – Position it away from pathways and neighbors' views.
Shade – Have an umbrella or gazebo covering handy to block harsh sun.
Lighting – Add ambient outdoor lighting for nighttime soaks under the stars.
Seating – Surround with weather-proof chairs or loungers for before/after soaks.
Landscaping – Use decorative fencing, plants or screens to create an oasis.
Shelter – Be prepared to relocate the tub or drain it if storms roll in.
Indoors
Flooring – Protect surfaces from moisture damage with a non-slip pad.
Ventilation – Open windows and use fans to prevent mildew and moisture buildup.
Privacy – Portable screens or room dividers give a sense of separation if needed.
Ambiance – Use soft lighting and play spa music to set a calming vibe.
Seating – Have cushy chairs or padded bench available for changing pre/post-soak.
Towels – Stock towels nearby so they're on hand when you get out.
Storage – Designate space to neatly store tubs and accessories when not in use.
Whether inside or out, look for a spot with the right vibe that also allows for enjoyable use. Take some time to create a space you'll look forward to escaping to.
Enhancing the Portable Hot Tub Experience
Aside from location, there are lots of ways to take your portable spa enjoyment to the next level:
Relaxation Aids
Pillow – Support neck, back and joints with a cushy bath pillow.
Jet placement – Position yourself near jets targeting sore muscles.
Music – Create a playlist of calming, meditative tunes.
Candles – Flameless LED candles provide a soothing ambiance.
Essential oils – Place a few drops in the tub or use a diffuser.
Lighting – Soft white or colored lighting sets a serene mood.
Eye mask – Block out visual distractions and light.
Epsom salts – Magnesium relieves tension, aches and pains.
Refreshments
Cooler/fridge – Keep hydrating drinks right beside the tub.
Wine holder – Securely holds your glass in the water.
Tray table – Floating table provides space for snacks and books.
Insulated mug – Maintain the temperature of your favorite hot beverage.
Fruit infuser – Cucumber, citrus and berries add flavor and nutrients.
Bath caddy – Caddy conveniently holds all tub-side accessories.
With the right enhancements, you can achieve full relaxation from head to toe!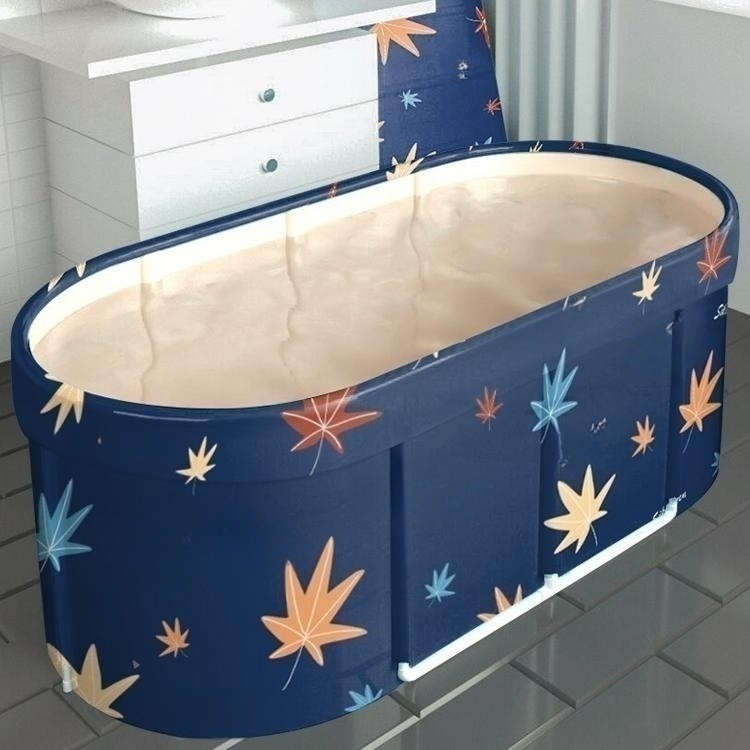 Maintenance Best Practices
To keep your portable spa in great shape:
Inspect for leaks/damage before each use and repair any issues immediately.
Completely drain the water after every use and wipe down with disinfecting cleaner.
If storing deflated, avoid piling heavy items on top that could lead to punctures.
When not in use, cover it to protect it from UV rays, dirt and debris that shorten its life.
If outdoors, bring the pump indoors or place it in a weatherproof box when not in use.
Check and replace filters per manufacturer guidelines.
Test water chemistry regularly. Balance pH and sanitize with chlorine or bromine.
Follow all care instructions from the company to uphold the warranty.
Avoid using abrasive cleaners or scrub brushes that can damage the tub materials.
With proper maintenance, a quality portable hot tub should provide years of soothing soaks!
The Joy of Hydrotherapy Anywhere
Portable tubs make it possible to unwind with a rejuvenating soak no matter where you roam. After a long day of travel, exercise or work, sliding into my own personal spa is the ultimate way to reset both my body and mind. The massage jets target tired muscles while the hot water washes my stresses down the drain.
My portable tub goes everywhere I go, so I never have to miss that restorative ritual. The right combination of portability, durability and relaxation-enhancing features were absolute must-haves for me.
Taking the time to properly evaluate the options was essential to finding the perfect tub for my needs.
If a portable spa is on your wish list, carefully consider which factors matter most to you. Measure your space, read reviews, and evaluate extras like massage, insulation and lighting.
Create a relaxing ambiance and prep a space you look forward to escaping to. With the proper research and setup, you'll be on your way to enjoying therapeutic hydrotherapy anywhere you need it!