Whether traveling, living in a small apartment, or simply lacking a built-in tub, a portable bathtub allows you to still soak and relax wherever you are. With so many portable tub options available today, it can be tricky to determine which best fits your lifestyle.
In this blog, we'll highlight the top 5 portable bathtubs perfect for travel and small spaces. For each tub, we'll go over the key features, pros, cons, and types of users it works best for.
Read on for the best portable bathtubs to help you unwind no matter where you call home!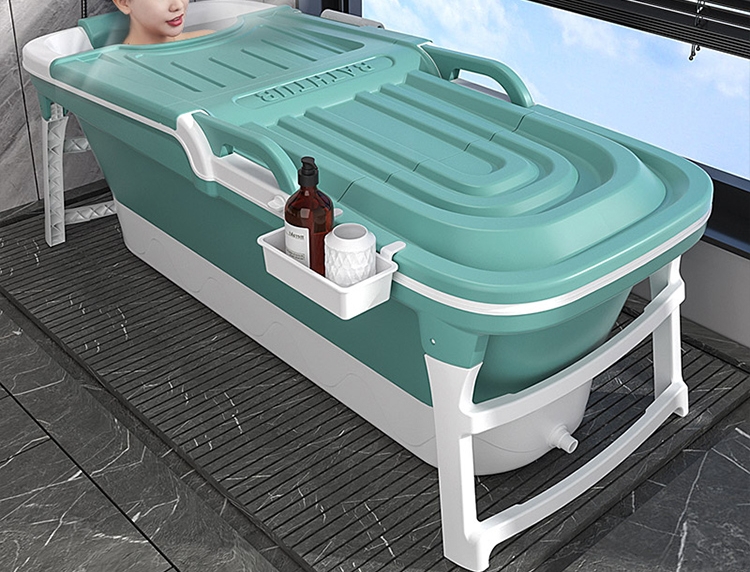 Key Features:
Prolonged heat retention
Aerodynamic collapsible design
Quick and easy setup
Premium durable materials
Sturdy and stable
Pros:
Thickened walls retain heat for longer, and hotter soaks
Folds down flat for packing and storage
Lightweight at just 11 lbs but supports over 700 lbs
Made of odorless, BPA-free polyethylene for safety
The non-slip bottom and reinforced frame provide stability
Integrated headrest pillow for targeted neck massage
External drain for quick water release
Can be used indoors or outdoors
Cons:
Manual inflation is required
Mat or pad recommended for indoor use
Best For: Those seeking a durable, rigid portable tub perfect for showering and hot water soaking both indoors and outdoors. The Aerodynamic Design collapses flat for easy transport and storage.
Premium Materials like polyethylene plastic and anti-slip rubber make it Sturdy and Durable for repeated use. Convenient drainage and a bonus Head Massage Pillow optimize relaxation. Overall, this is an exceptional tub for travel or small home bathrooms.
2. Two-Person Inflatable Jacuzzi Tub
Key Features:
Built-in jacuzzi jets
Rapid heating system
Dual headrests
Sturdy I-beam construction
Insulated floor
Pros:
130 bubble jets create a luxurious spa experience
Reaches optimum temperature up to 104°F
Cushioned headrests for both bathers
Durable yet soft multilayer puncture-resistant material
Holds heat and prevents bottom sag
A digital control panel simplifies the use
Convenient drain valve for fast water release
Works great for 1-2 adults
Cons:
On the heavier side at 91 lbs
Requires significant setup and takedown time
Best For: Couples or duos wanting to enjoy a portable inflatable hot tub complete with massage jets and rapid heating. The sturdy I-beam structure provides durability while dual heat rests allow two people to relax together.
Large tub capacity immerses bathers while the insulated floor helps maintain the desired temperature. Great for maximizing spa luxury even in tight quarters.
3. Rotomolded Soaking Tub
Key Features:
Built-in seat
Jets for massage
Thermal cover included
Storage shelf
Durable polyethylene
Pros:
Ergonomic molded design and interior seat for comfort
Hydromassage jets target sore muscles
Retains heat while insulating the tub when not in use
Convenient side shelf for bath accessories
Made of heavy-duty materials to prevent wear
Steel cabinet base adds stability
Easy to clean with detachable components
Matches existing bathroom décor
Cons:
The high price point is around $1500
Limited color/size options
Permanent installation required
Best For: Seeking a luxurious soaking experience from a fully-featured rigid portable tub. The molded design offers ergonomic comfort while jets relax the body.
Built to last from durable materials, this tub becomes a permanent fixture. The included cover helps retain heat when in use. Ideal for maximizing relaxation even in small home bathrooms.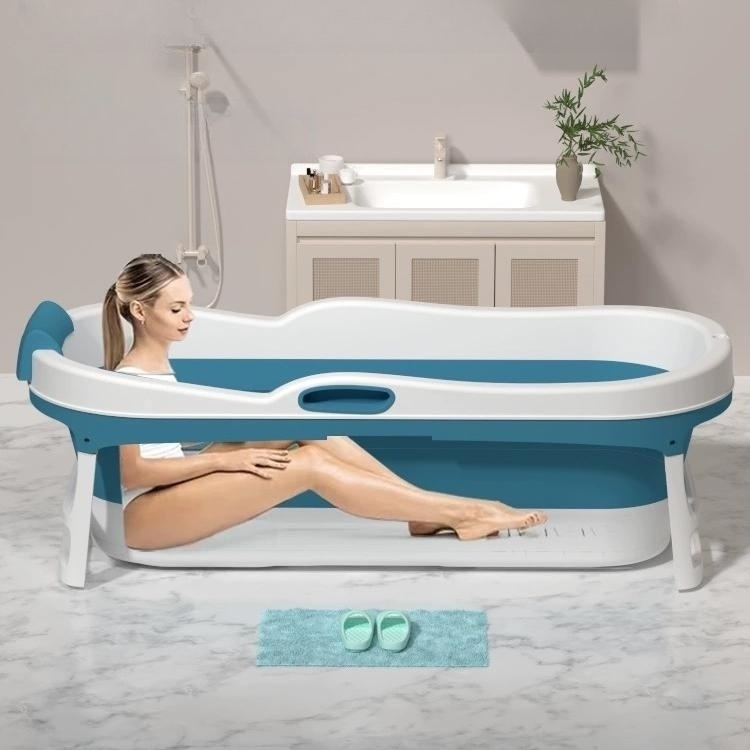 4. Thermal Bubble Massage Spa
Key Features:
140 air jet massagers
Rapid heating system
Digital control panel
Insulated cover
Built-in water filtration
Pros:
Powerful massage bubbles target sore muscles
Digitally controlled pump and rapid heating for faster use
Sturdy 3-ply PVC construction
Maintains temps up to 104°F
Assorted built-in accessories like cup holders
Designed for indoor or outdoor use
Cushioned floor for comfort and insulation
Provides relaxation for 2-4 people
Cons:
Initial inflation requires time and effort
Emptying/draining takes longer than other models
Best For: Groups or families seeking a portable inflatable hot tub with plenty of massage jets. The digitally controlled pump and rapid heating system make operation easier.
Sturdy PVC construction allows it to be set up either indoors or outdoors. The cushioned floor pad offers comfort while retaining heat. Provides an affordable at-home spa experience for several people.
5. Rotating Pop-Up Portable Tub
Key Features:
Rotating backrest
Bubble massage jets
Drainage hose included
Anti-leak design
Foldable stainless steel frame
Pros:
Pivoting backrest reclines for comfort
Jets provide an invigorating massage
The bottom drain makes emptying simple
Durable PVC liner resists punctures
Folds up compactly when not in use
Set up in minutes with a folding steel frame
Minimal accessories needed for operation
Lightweight for one person to move
Cons:
Some users report air valve leaks
Limited space for only 1-2 people
Best For: Individuals desiring a portable tub focused on comfort and massage. The rotating reclining backrest allows you to soak in the most comfortable position.
Convenient drainage and rapid setup also make it great for travel. While smaller in capacity than other models, the focus is on luxury features and portability. Ideal for small spaces where frequent quick setup is key.
Relax Anywhere with a Portable Tub
Portable tubs open up the possibility of unwinding in a tranquil bath no matter where you are. Whether parked in your RV, relaxing in a vacation rental, or making the most of a tiny apartment bathroom, portable tubs deliver.
Carefully consider which size, capacity, materials, features, and price best meet your needs. Read reviews and do your research to make the most informed choice. Soon you'll be on your way to enjoying soothing soaks wherever you roam!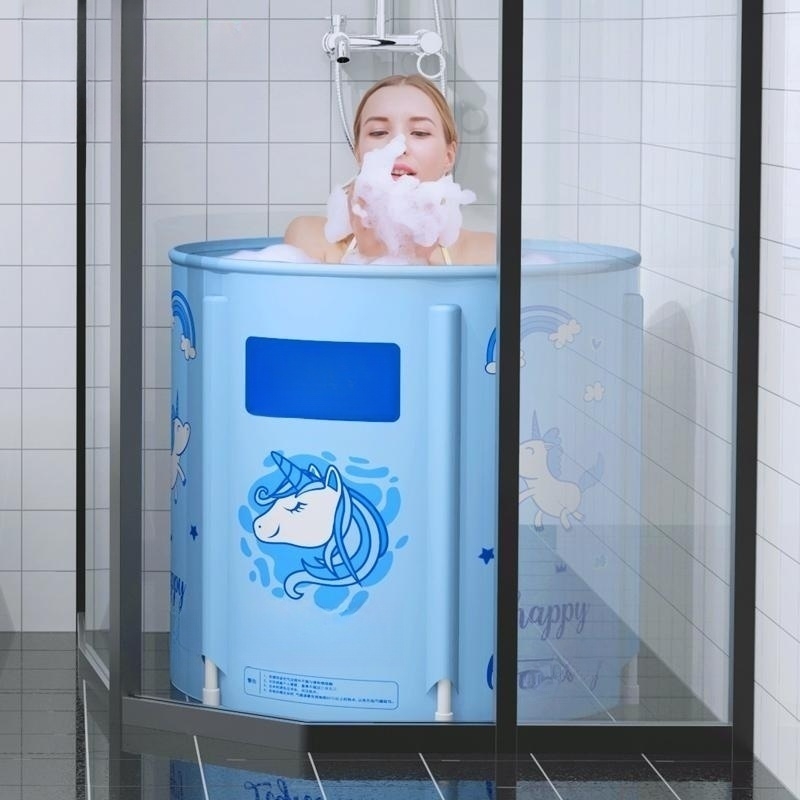 Here are some additional tips for

choosing

and using a portable tub:
Consider the available electrical requirements for any powered features like rapid heating, jets, or digitally controlled panels.
Measure doorways and paths to ensure the tub can be maneuvered into the desired spot for setup.
For outdoor use, check if a canopy, gazebo, or other weather protection is needed.
If used outdoors, keep the tub empty and covered when not in use to prevent rainwater buildup.
Allow ample ventilation for indoor setups to prevent mildew and moisture damage.
Use a protective ground pad or tile underlayment to shield indoor flooring.
Read product manuals to understand care procedures like cleaning filters.
Inflatable models require adding air before each use and deflating after. Leave time for this when planning your soak.
For travel, measure vehicle space and door openings to ensure the tub fits for transport.
Consider a tub-side caddy, tray, or shelf for holding bath accessories within easy reach.
Location near an outlet can allow for supplemental heating, ambient lighting, music, etc.
Keep the tub away from potential puncture/damage sources when deflated for storage.
Follow all manufacturer instructions for proper maintenance and winterizing when needed.
With a bit of planning and preparation, a portable tub can provide a relaxing spa-like soak anywhere you want it. Take the time to choose the best model for your needs and setup the optimal space for enjoyment. Soon your own portable oasis awaits!
Here are some extra tips for enhancing relaxation in your portable hot tub:
Add mineral salts or bath bombs to soothing aromas.
Use an insulated mug and holder for enjoying warm drinks while bathing.
Light flameless candles around the tub perimeter to set the mood.
Play calming music or nature sounds to help you unwind.
Have a soft robe or blanket nearby, so it's ready when you get out.
Keep healthy snacks and hydrating drinks within reach.
Use an adjustable pillow to support your head and neck.
Try rotating through hot and cold soak periods for contrast therapy.
Boost circulation with targeted hydrotherapy jets.
Visualize stress leaving your body during exhalations.
Follow up with soothing lotions or essential oil rollers.
Sip relaxing herbal tea after your soak.
Take the time to create an ambiance and ritual that allows you to fully decompress. A portable tub lets you enjoy the rejuvenating benefits of water therapy anywhere!
Conclusion
Whether you're a frequent traveler, tiny home dweller, or a small space apartment renter, a quality portable bathtub allows you to enjoy the luxuries of bathing and hydrotherapy from the comfort of anywhere.
As we've covered, portable tubs come in a range of styles, sizes, features and price points to suit different needs and preferences. Key aspects to consider are the capacity, durability, ease of setup, included accessories, and whether powerful jets or rapid heating are necessities for you.
By evaluating your individual requirements, available space, and budget, you can narrow down the selection to find your perfect portable soaking oasis. The tubs we highlighted offer excellent options focused on portability and functionality for use in RVs, vacation rentals, or urban apartments where permanent installations are not possible.
With the convenience of inflation or quick assembly, they provide an at-home spa experience with minimal fuss. Be sure to read reviews and manufacturer details to make the most informed selection for your needs.
The benefits of warm water immersion and massage are now at your fingertips regardless of your living situation.
Invest in a quality portable tub designed for travel and small spaces, and relax knowing you can soak your cares away wherever you call home. A daily dip can do wonders for both body and mind!