For many people, being able to relax in a nice hot bath at the end of a long day is an essential self-care ritual. But not everyone has the luxury of a built-in bathtub in their home.
That's where portable tubs come in handy! Portable tubs allow you to still soak and unwind no matter where you live.
With so many portable tub options out there though, it can be tricky to figure out which one is right for your needs.
In this comprehensive guide, we'll go over everything you need to know to pick the perfect portable bathtub for you!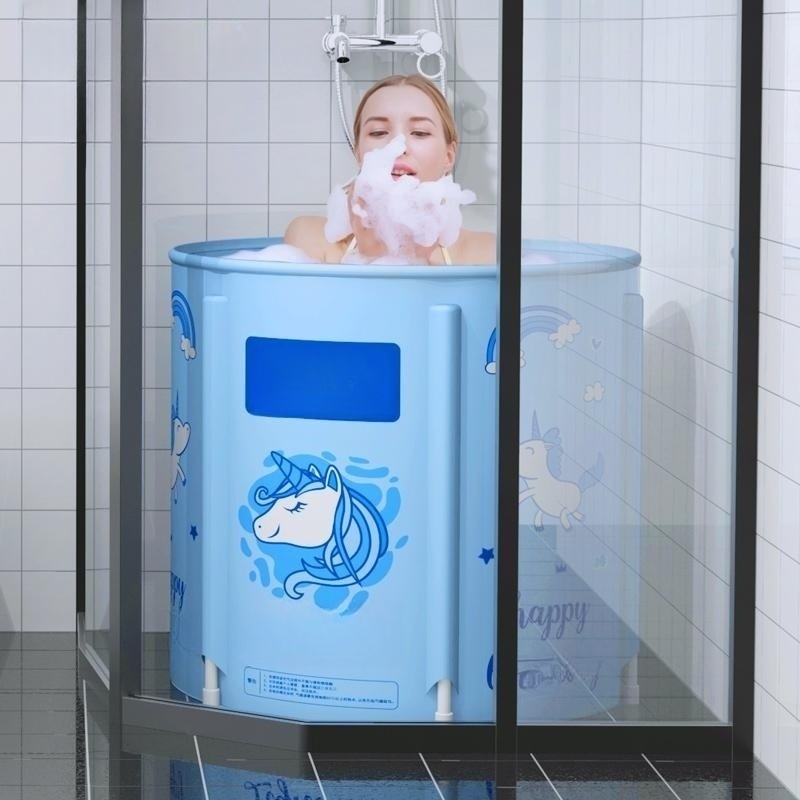 Factors to Consider in a Portable Tub
Here are the key features and factors to evaluate when selecting a portable tub:
Size – Consider both the interior bathing dimensions as well as the overall tub footprint. Measure your space and your body to ensure a proper fit.
Material – Common portable tub materials include acrylic, rubber, vinyl, metal, and plastic. Acrylic offers durability and heat retention. Vinyl is budget-friendly but less sturdy.
Shape – Rectangle, oval, and round options are available. Round or oval may provide more body comfort.
Weight Limit – Check the maximum weight capacity and make sure it fits your needs.
Drainage – Some tubs feature quick drain systems while others need to be bailed or siphoned.
Installation – Inflatable tubs require inflation before use. Foldable and rigid models allow for faster setup.
Extra Features – Look for features like headrests, integrated seats, jet massage, insulation, storage trays and more based on your preferences.
With the key factors in mind, let's go over your portable tub options in more detail.
Inflatable Portable Tubs
Inflatable tubs are a popular choice thanks to their lightweight design and affordable prices. They deflate for easy storage when not in use. Here are the pros and cons:
Pros:
Budget-friendly pricing
Lightweight and portable
Stores compactly when deflated
Quick and simple inflation
Often include accessories like pumps, covers, and filters
Cons:
Durability varies; prone to punctures over time
Limited weight capacity
Slow to drain water; often requires bailing
Limited special features or jet options
May arrive with defects or leaked air
If opting for an inflatable tub, be sure to get one constructed from durable PVC or rubberized material. Shop popular name brands known for quality. Also, look for one with a built-in or external inflation pump for convenience.
Foldable Portable Tubs
Foldable portable tubs offer enhanced durability and features over inflatable models, at moderate prices. They fold up for storage and transport.
Pros:
Sturdy construction built to last
Increased weight capacity
Often built-in seats and jets
Fold down to a fraction of assembled size
Faster drainage than inflatable tubs
Retain heat well
Cons:
Heavier than inflatable tubs
Assembly required before each use
Can still puncture if dropped when folded
Few extra features like headrests
If choosing a foldable tub, look for those made of polypropylene or thermoplastic. Make sure it has secure, reinforced hinges. Handles make it easier to move the tub when filled.
Rigid Portable Tubs
On the higher end, rigid portable tubs offer maximum durability and custom features for a spa-like soaking experience. But they do come at a higher price point.
Pros:
Extremely durable and long-lasting
High weight capacity and water volume
Excellent heat retention
Built-in seats, headrests and jet options
Ergonomic, contoured designs
Fast drainage
Customizable accessories
Cons:
Most expensive portable tub option
Bulkier and heavier than other styles
Permanent installation is often required
May require special electrical or plumbing
Look for rotationally molded rigid tubs made of acrylic or resin if you want a permanent tub option. Customize with accessories like underwater lighting, tray tables, and aroma therapy.
Extra Portable Tub Features to Consider
Aside from the main portable tub options, here are some other great features to look for:
Pillow – Contoured bath pillows provide head, neck and back support. Looks for waterproof and mildew-resistant materials.
Jets – Built-in water jets deliver a relaxing massage experience. Make sure to check the number and placement of jets.
Controls – Conveniently located controls allow you to activate jets, and bubbles and adjust the temperature while soaking.
Insulation – Insulated tubs retain heat longer and keep ambient air out.
Cup Holders – Built-in or hanging cup holders keep drinks nearby while bathing.
Storage – Tubs with inner storage trays or outer shelves offer space for bath accessories.
Extras – Look for bonuses like headrests, trays, covers, filters, steps and slip-resistant bottom pads.
Think about the features that would enhance your bathing experience and narrow your selection accordingly.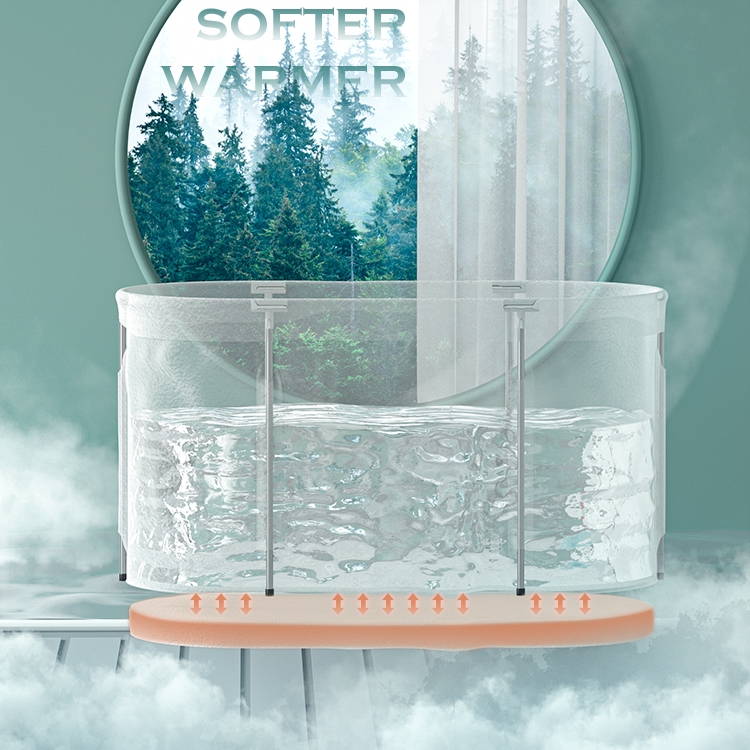 Portable Tub Accessories
You can further customize your portable tub with detachable spa accessories:
Pump – External pumps for inflating and deflating tubs.
Steps – Plastic steps make it easier to get in and out safely.
Mat – Anti-slip mats protect tub floors and your feet.
Table – Floating bath tables provide space for drinks, books and more.
Candles – Flameless candle lights set a relaxing ambiance.
Caddy – Convenient caddy hangs across the tub for holding bathtime items.
Wine Holder – Acrylic wine glass holder keeps your beverage within reach.
Brush – Long-handled soft bristle brush invigorates the skin.
Robe – Plush robe envelopes you in warmth after bathing.
Towels – Stock up on large, soft and absorbent towels.
Spa Pillow – Support your neck, head and shoulders as you soak.
Tray – Use a floating tray for holding a book, tablet or snacks.
Stool – A stool or bench allows you to sit while dressing after your bath.
Music – Portable waterproof Bluetooth speaker to set the mood.
Mask – Use a hydrating or soothing face mask as you soak.
With the right accessories, you can fully outfit your portable tub into a home spa oasis.
Places to Buy Portable Tubs
Now that you know what to look for in a portable tub, where are the best places to purchase one? Here are some top options:
Amazon – Extensive selection with user reviews. Look for Prime-eligible tubs with free shipping.
Home Depot – Large inventory available in-store or online. Everyday low pricing.
Walmart – Affordable inflatable models are sold in-store and online. Free ship-to-store.
Costco – Discount bundles come with extras like steps, mats and accessories.
Overstock – Wide assortment of name-brand tubs with free shipping on most models.
Lowe's – Brick-and-mortar locations to see models in person along with online ordering.
Sam's Club – Bulk pricing on inflatable tubs starts at just $100 for members.
Walgreens – Convenient pick-up at your local store often with same-day delivery.
Bed Bath and Beyond – Frequently run promos on bath items with coupons available.
Target – Style selection improves during the summer swim season.
Wayfair – Massive inventory with advanced search filters to refine your search.
Manufacturer websites – Check company sites like Coleman or Intex for model details.
Comparison shop across retailers to find your dream portable tub at the best possible price. Check for coupons and promo codes before placing your order to maximize savings.
How Much Do Portable Tubs Cost?
Portable tub prices can vary wildly based on the overall quality, size, features and materials. Here are some typical price ranges:
Inflatable portable tubs – $60 to $600
Foldable portable tubs – $250 to $1,000
Rigid portable tubs – $700 to $5,000+
Accessories and add-ons – $15 to $500
Very budget-friendly inflatable tubs can be found for under $100. High-end acrylic models with all the bells and whistles can cost upward of $5,000. Measure your space, determine must-have features, and set a maximum budget beforehand.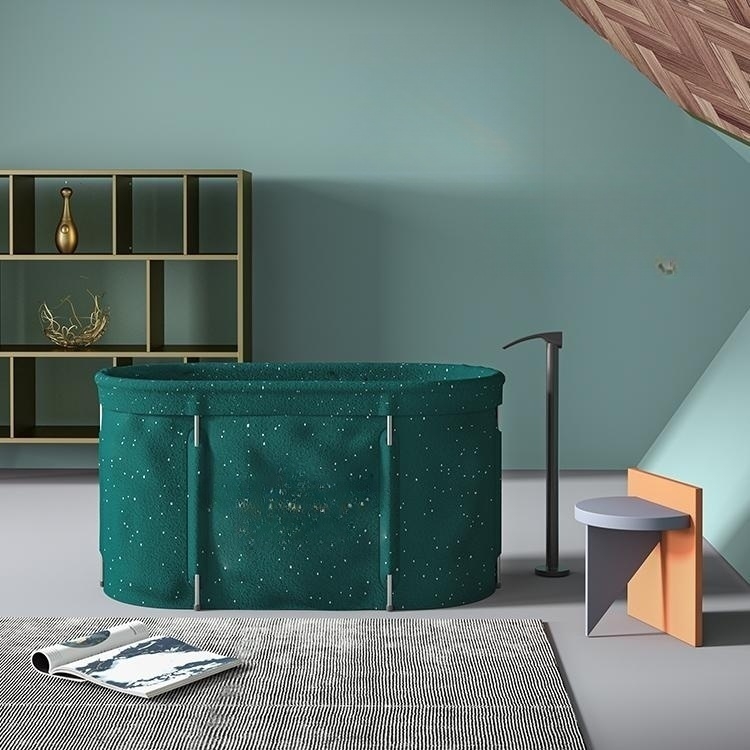 Key Takeaways for Selecting a Tub
To recap, keep these key tips in mind when evaluating portable tubs:
Measure your available space first.
Decide which style fits your needs: inflatable, foldable or rigid.
Compare capacity, dimensions, materials, drainage and installation.
Prioritize must-have special features and accessories.
Read reviews and look for red flags about quality concerns.
Set a total budget and look for sales or coupon deals.
Seek models with warranties of 1-5 years for protection.
While portable tubs may not offer quite the same luxurious experience as permanent installations, they can still provide plenty of therapeutic benefits. Just make sure to do your homework to find the portable bathtub that best fits your lifestyle needs and budget. With the right model, you'll be able to enjoy relaxing hydrotherapy from the comfort of your home!
Here are some additional tips for choosing and using your portable tub:
Consider how often you plan to use it. If it's primarily for vacations, an inflatable may suffice. For regular use, invest in a durable rigid or foldable tub.
Make sure to measure doorways to ensure your chosen tub can fit through entrances and hallways during delivery and setup.
Read the fine print on warranties to understand what kind of damages or defects are covered.
Ask the seller about return policies in case you end up dissatisfied with the tub for any reason after purchase.
Look into compatible portable water heater options to maintain your ideal soak temperature.
Evaluate the ease of changing the water and cleaning the tub after use to keep it hygienic.
For outdoor use, make sure your electrical outlets are GFCI protected and covered.
If bugs are an issue, get a fitted cover to protect your tub when not in use.
For indoor use, check that floors can adequately support the weight when filled.
Consider getting a professional installation for permanent models to ensure proper setup.
Have a plumber inspect any special plumbing hookups needed.
Read and follow all safety, care and maintenance instructions from the manufacturer.
Taking the time to carefully select the right portable tub for your needs will pay off with years of rewarding soaks! Do your homework and get ready to transform any space into your personal home spa.