There's nothing more relaxing than a warm, peaceful soak in a bathtub after a long day. But finding room for a standard tub in today's small spaces can be a challenge. That's where portable bathtubs come to the rescue!
Portable tubs provide all the benefits of bathing – relaxation, pain relief, and hygiene – without taking up your whole bathroom. Their compact size and easy portability let you enjoy a spa-like bath anywhere.
In this ultimate guide, we'll explore portable bathtub options, features, and benefits. Discover the best portable tubs for easy, comfortable bathing no matter your needs or space constraints. Let's dive in!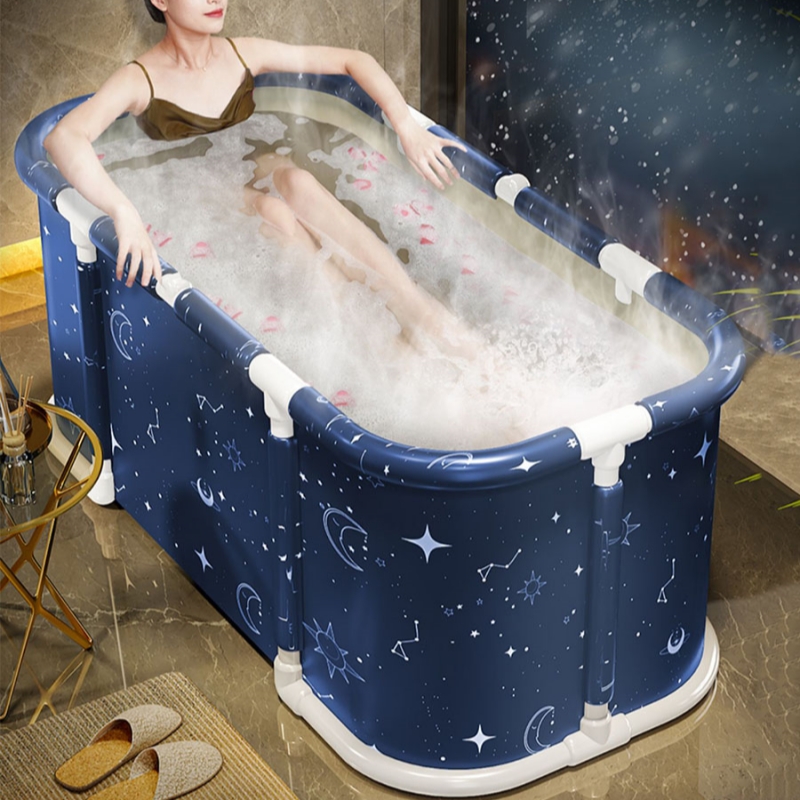 What Are Portable Bathtubs?
Portable bathtubs provide a temporary bathing solution that can be set up anywhere and stored compactly when not in use. They come in two main styles:
Inflatable Tubs
Inflatable portable tubs are made of durable PVC or rubber. They inflate with an electric pump for quick setup. Most fold into a small size for storage and travel.
Inflatable tubs offer the ultimate portability and compact storage. They are the lightest tub option and often the most affordable as well. However, they are prone to punctures over time.
Hard-Shell Tubs
Hard-shell portable tubs are made of plastic, fiberglass or enameled steel. They fold up or come apart into smaller pieces. Sturdy frames support the tub walls.
Hard-shell tubs provide rigid support and efficient heat retention thanks to their solid construction. However, they tend to be heavier and bulkier for transport.
Benefits of Portable Tubs
Why should you consider a portable tub? Here are some of the great benefits they offer:
Compact size for small spaces
Easy to set up and take down
Lightweight and portable
Convenient for travel
Accessible entry and exit
Affordable compared to built-ins
Provide full-body immersion
Retain heat efficiently
Customizable with accessories
A standard bathtub can dominate a small bathroom. Portable tubs provide spacious bathing without hogging precious real estate.
Their slim profile makes them ideal for RVs, apartments, tiny homes, and other compact living spaces when not in use.
Portable tubs are also great for creating a guest bath without expensive renovation. Keep one on hand to set up as needed in a spare room or fold up when the company leaves.
For those with mobility challenges, a portable tub can be positioned wherever is most convenient for entry and exit. The lightweight design also allows moving the tub to avoid forcing the bather to step over walls. This improves both safety and independence.
Let's explore all these benefits in more detail!
Space Saving Design
One of the biggest advantages of portable tubs is their compact footprint. When folded or deflated, they tuck away neatly into closets, under existing tubs, or even under beds.
No permanent installation is required – simply set up anywhere you have space.
Hard-shell portable tubs fold down to around 6 inches high, often with a thin, vertical profile for slipping into tight spots. Inflatable models deflate into a lightweight bundle just 2-3 inches thick.
This space-saving design makes portable tubs ideal for small bathrooms, apartments, RVs, and anywhere space is limited. Enjoy a relaxing bath without a large, permanent tub hogging your whole bathroom.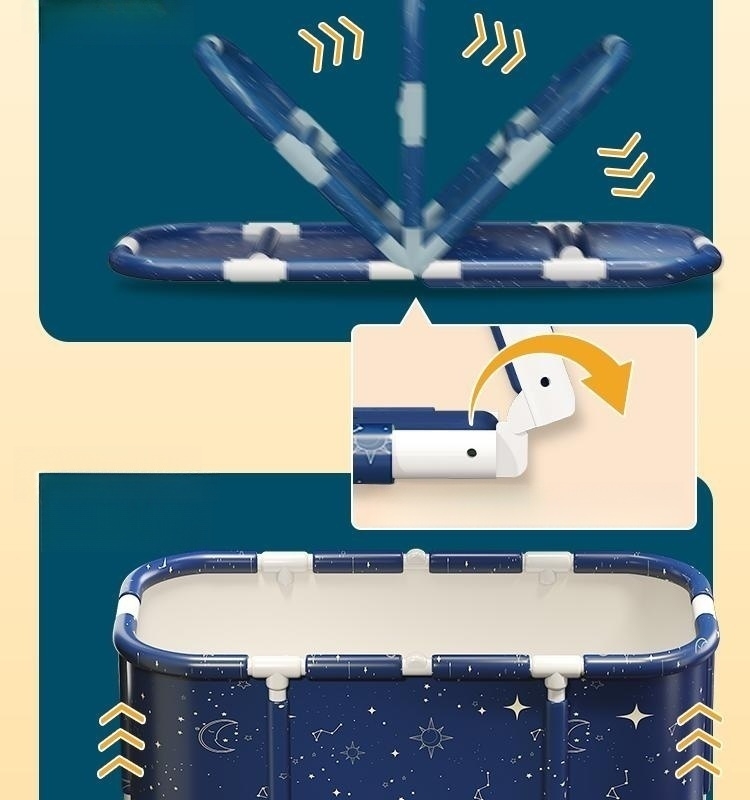 Easy Portability
Standard tubs are extremely heavy and fixed in place. Portable tubs offer the ultimate convenience of taking your bath anywhere you want to go.
Inflatable models fold or roll up compactly to transport in a car or suitcase. Some even come with carrying cases complete with pockets for bath accessories. Durable fabrics and rigid plastic bases allow these tubs to withstand frequent travel.
Hard-shell portable tubs are heavier, but still much more manageable to move than permanent tub models.
Look for tubs with handles or wheels to make moving them around easier. Or opt for a model that disassembles into smaller pieces for transport.
Thanks to their lightweight, collapsible design, portable tubs transform any space into a relaxing spa. Set up a tranquil bath outdoors in your garden, while camping, or even in your bedroom for a soak under the stars. Wherever you roam, bring the luxury of bathing along.
Accessible Bathing
Portable tubs also provide more accessible bathing compared to standard tubs. Their lower height and open interior allow easier entry and exit for those with mobility limitations.
Many portable tubs measure just 12-15 inches tall – much lower than the 20+ inch walls of a typical installed tub. The lower barriers reduce the risk of falls and don't require the strength to step over high walls. This allows safe use for children, seniors, or those with disabilities.
The open concept and lightweight materials also mean portable tubs can be positioned wherever is most convenient for the user. Place it next to a wall or counter for support getting in and out. Or easily move the tub to avoid awkward transitions.
Walk-in tubs offer wheelchair-accessible bathing but require expensive installation. Portable tubs provide similar benefits at a fraction of the price. They ensure safe, comfortable bathing for all ages and abilities.
Relaxation and Pain Relief
Let's not forget one of the best parts of baths – they simply feel heavenly! A soothing soak does wonders for relieving sore muscles, reducing stress, and promoting relaxation.
The convenience of portable tubs allows you to unwind in a tranquil bath anywhere, anytime. No need to wait your turn for the main bathroom – set up your own relaxing refuge wherever you want. Light some candles, put on calming music, and drift away.
Studies show bathing improves circulation and releases endorphins that relieve pain. Warm water also eases joint stiffness and arthritis by increasing flexibility. Just 15-20 minutes in a tub can erase aches, pains and the day's tension.
Many portable tubs also offer massage features. Strategically places air jets target sore muscles for soft tissue therapy. Let the bubbles melt your stress away!
Affordability
One more great benefit of portable tubs is that they provide an affordable bathing solution. Standard built-in tubs can cost $2,000-5,000 to install, not including bathroom remodeling. Walk-in accessible tubs run $3,000-15,000.
Portable tubs provide a spacious bath for a fraction of the price. Basic inflatable models start at around $50-100. More deluxe hard-shell tubs with jets and other features run $300-500. While not cheap, they offer significant savings compared to permanent models.
Not only are portable tubs affordable to purchase, but they also save money on energy and water costs over time. Their smaller size requires less water to fill.
Inflatable tubs allow adjusting water levels for a shallow soak or full immersion. Many portable tubs also have insulation that retains heat efficiently. This saves substantially on water and energy bills compared to soaking in a standard large tub.
Customizable Experience
Another great feature of portable tubs is that they can be customized with accessories to create your dream bath. Here are some popular tub add-ons:
Bathtub caddies: Provide a flat surface for bath essentials like drinks, books, devices or skincare products. Look for waterproof, floating designs.
Inflatable pillows: Offer neck support and cushioning while soaking. Help keep your head elevated for safer, more comfortable bathing.
Bath mats: Give traction on smooth tub surfaces and cushioning for pressure points. Essential for comfort!
Jet attachments: Add relaxing bubbles with attachments to massage sore muscles in the tub.
Steps: Provide safe and easy access to get into and out of the tub. Great for mobility issues.
Thermometers: Monitor and maintain perfect bath temperatures.
Tray tables: Allow to enjoy a snack or beverage hands-free while bathing.
With the right accessories, you can customize your portable tub into a decadent home spa experience. Experiment with different enhancements to create your ultimate oasis!
Choosing the Right Tub
Now that you know the many benefits of portable tubs, it's time to choose one for your needs! Here are some key factors to consider while shopping:
Size
Carefully measure your existing space as well as the doorways you'll need to pass through. Compact tubs range from about 25-40 inches wide and 50-70 inches long. Make sure to choose a size that fits your bathroom layout.
Weight Capacity
Check the tub's maximum weight capacity and choose one rated for your needs. Look for at least 250-300 lbs for individual use or 500+ lbs for two-person use. Sturdy frames prevent sagging over time.
Shape
Consider ergonomic shapes that provide lumbar support and leg room. Contoured seats improve comfort while angled backrests relieve pressure points. Corner tubs maximize tight spaces.
Material
Hard-shell portable tubs offer sturdy support and heat retention but weigh more. Inflatables are lighter and pack down smaller but are prone to punctures. Choose what fits your space and needs.
Special Features
Look for tubs with hydrotherapy jets, bubble massagers, heating, aromatherapy, chromotherapy lights, and built-in water filtration for the ultimate spa experience.
Keep your needs, space, and budget in mind while comparing options. With so many portable tubs available, take time to choose the best model for you.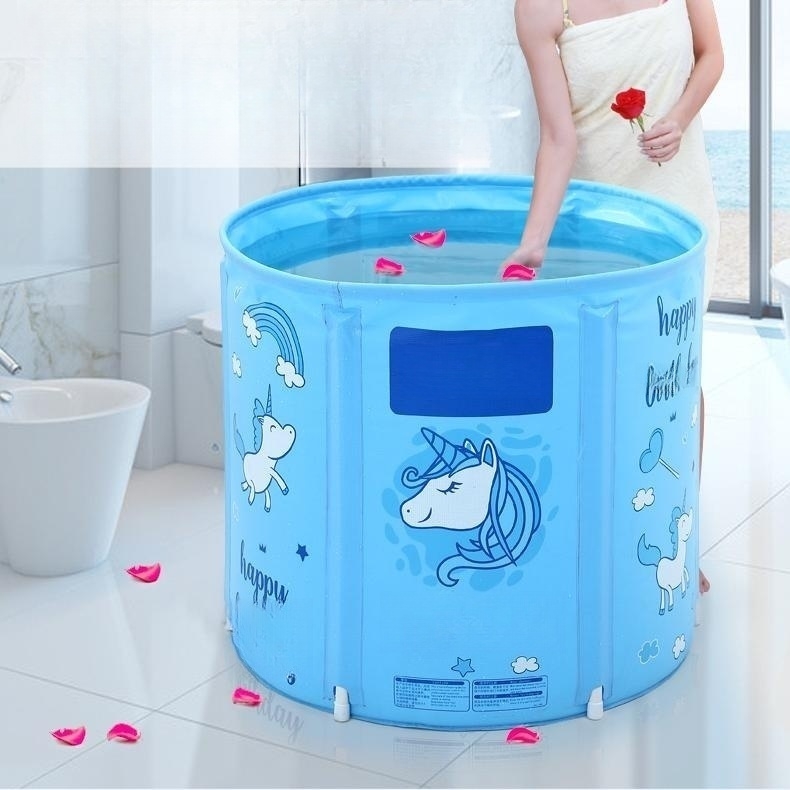 Top Portable Tub Picks
Here are our picks for the best portable bathtubs to fit a variety of needs and spaces:
Our top pick is the Shower-Ready Portable Bathtub. This folding tub is packed with features to provide an indulgent spa bath anywhere.
Aerodynamic shape and sturdy frame
Thickened edges prevent slipping
Premium thermoplastic materials
Multi-functional insulated thermal lid
Quick drainage system
Head massage pillow
Easy to fold and transport
We love the Shower-Ready tub's prolonged heat retention, accessible entry, and versatile lid for holding bath accessories. Enjoy a relaxing soak on the go or in small spaces with this well-designed tub.
For an ultra-portable inflatable pick, choose Serenelife. This budget-friendly tub inflates in minutes.
Durable PVC construction
Built-in air jets for massage
Heated bubbly bath option
Insulated floor for warmth
Digitally controlled pump
Compact storage size
Affordable price point
Pamper yourself with a spa-like soak anywhere. This inflatable tub provides luxurious features at a fraction of the cost of hard-shell models.
3. Best Choice Folding Tub
Best Choice offers a sturdy enameled steel folding tub with a bench seat.
Rust-resistant porcelain-coated steel
Integrated bench for support
Thermal retention properties
Reinforced inner frame
Drain hose included
Excellent value tub
With its space-saving foldable design, comfortable bench, and durable build, this tub is a budget-friendly choice.
4. Intex Inflatable Corner Tub
Intex's Corner Tub saves space by fitting snugly in corners.
L-shaped design with contoured seat
Built-in air jets
Insulated liner and cover
Simple Inflation
Compact storage
Handles for portability
Soak away stress with a relaxing bubble bath in tight spaces thanks to the innovative shape.
Coleman's recreational tub is built for camping and outdoor use.
Sturdy inflatable PVC
Drain plug for easy emptying
Soft cushioned floor for comfort
Mesh headrest and cup holders
Carry bag included
Portable and lightweight
This tub lets you unwind in a warm bath under the stars after a day of hiking or camping. Roughing it never felt so luxurious!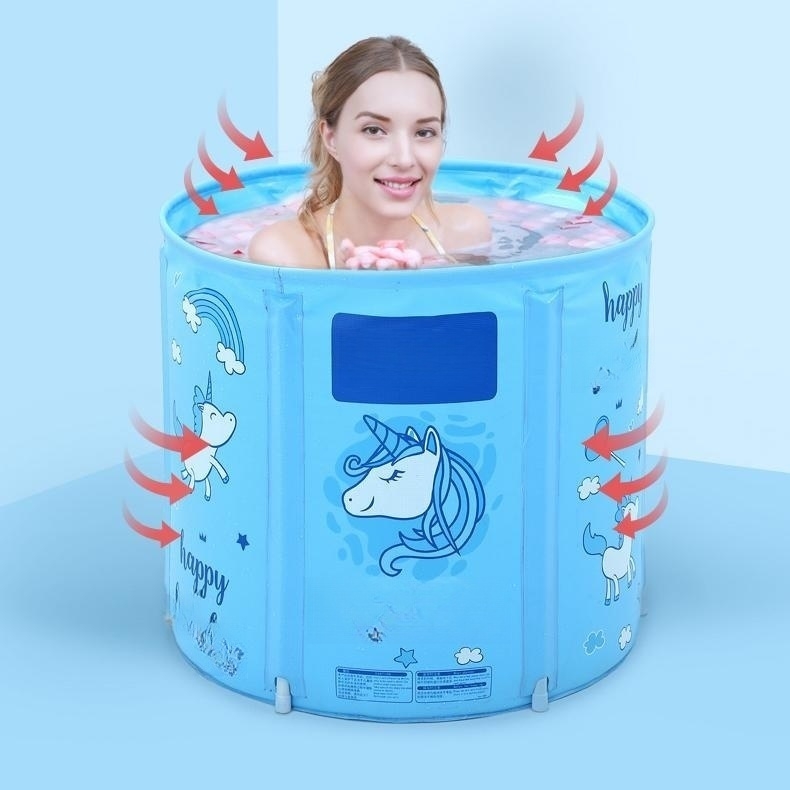 Set Up and Maintenance
To keep your portable tub in top shape:
Find a level surface, ideally with a drain nearby
Assemble parts and fill the tub according to instructions
Check for leaks and re-inflate inflatables if needed
Use a filter to catch hair and debris during baths
Empty water after each use to prevent microbe growth
Clean with non-abrasive cleaners and fully dry
Deflate or disassemble for compact storage
By properly setting up your tub, keeping it clean, and storing it safely, your portable bathing oasis will last for years.
Enjoy Easy Bathing Anywhere
Portable tubs make it simple to soak and relax wherever you roam. Whether you love camping, road-tripping, or just have limited space at home, a portable tub has you covered.
Choose from budget-friendly basic models or splurge on luxurious options with all the spa-worthy bells and whistles. With the right portable tub, you can soak your stresses away surrounded by the scenic great outdoors or the cozy comfort of home.
Treat yourself to an accessible, affordable bathing experience. Invest in a portable tub to enjoy the benefits of hydrotherapy and total relaxation anywhere, anytime!